Busy Software Delhi India with powerful features of GST
Busy software 21 Delhi, India suitable for small business owner, Traders, Distributors, Retailers, Manufacturers. Busy 21 Latest Version
Busy accounting software is a GST Accounting Software at a best price in Delhi, India. Busy helps business and enterprise in GST Billing, Accounting and Inventory Management with advanced features of BUSY like MIS reports, GST Return Filing and Compliance. Busy accounting software is a integrated business accounting software solutions. It is specially designed for micro, small and medium businesses with powerful features of GST in order to help them manage their business.
Busy Software is simple to use small Business owner work With Busy easily without any problem there is no requirement knowledge of accounting , the owner/manager can aggressively manage accounting, inventory, GST billing, e-invoicing, e-way bills and e-invoicing and GST return with in a minute Any Computer or Laptop, without going to GST portal. Anywhere and Anytime.Busy software price is affordable compare to another softwares.
We are BUSY Accounting Software Reseller in Delhi, India. We offer basic, standard, and enterprise busy accounting variation as per needs with powerful features of GST. also, we offer Busy 21 Latest Version. busy software available in multiple modes- single user, dual user, multi user all modes price are different.

For More Details Please Visit :- Busy Software price list
Buy busy accounting software- contact us for delivery.
Have a Query? Ask Us
+91-7217799535 or +91-9013049756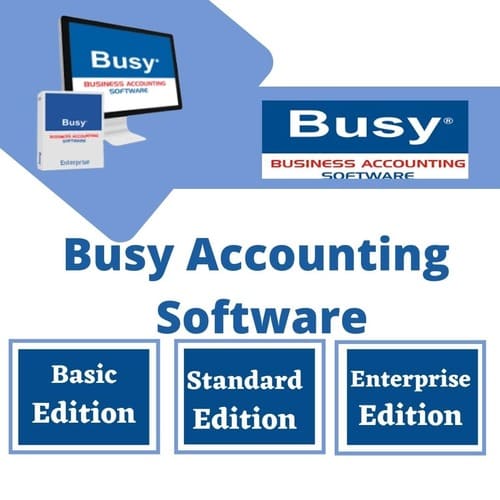 Busy Software :- Price
We offer busy software in three different editions like Busy Basic Edition, Busy Standard Edition, and enterprise edition unlike features that empower your business truly. Explore features, price, and request for free-demo or order online. You Can Check Busy Software Price in Delhi, India.
Note: GST Extra Applicable 18% in all plans.
Busy Basic Edition delivered in different modes
Basic Single User
Basic Dual User
Basic Multi User
All Books of Accounts
Multi Godown Inventory
Configurable Invoice Printing
GST Reports & Returns
GSTIN & HSN Validation
PDC Entry h Bank Reconciliation
sale/Purchase Analysis in various combinations
MIS Reports (Cash/Fund Flow, Profitability Reports etc.)
Fully User Definable Access Rights
Search. Sort. Filter. Group all Screen Reports
Reports Exports (HTML, PDF, MS-Excel)
Standard Edition
Rs.

13500
Busy Standard Edition delivered in different modes
Standard Single User
Standard Dual User
Standard Multi User
All Features In Basic Edition
Advance Inventory Mgmt. (Batch, MRP, SR. No. & Parameter Wise Details)
Manufacturing/Production Features
Scheme Mgmt. FMCG Retail
Quotation/Order/Challan Processing
Job Work Management (In House/Out Side)
Multiple Units of Items (Alternate Unit & Packaging Unit)
Multiple Methods of Item Pricing h Discount
Salesman/Broker wise Calculations and Reporting
Email/SMS of Vouchers & Reports
Automatic E•Way Bill / E-invoice
Digital Signature in Busy
Busy Mobile App
Busy Software Features
Save Time
Busy accounting software can help you save time contrasted with manual accounting. It can interact with all the front end archives just as back end exchanges. It will assist you with making bank stores, compose checks, and plan client solicitations. In addition, it likewise permits you to record these exchanges.
Real-time Monitoring
With computerized accounting, you can undoubtedly make and keep up monetary records and produce top to bottom reports at some random time. This will help you screen monetary records and resolve issues before they transform into enormous issues.
Shorter Learning Curve
The expectation to learn and adapt to the product is short and simple. Regardless of whether you have no information on accounts, you can figure out how to utilize the framework viably. This will assist you with limiting bookkeeping mistakes and compromise issues.
Cash Flow Management
Busy assists you with recording and tracking your payables and receivables. Further, this will assist you with breaking down your current and future income status. Also, you can track solicitations and bills.
Actionable Reports
The extravagant reporting and analytics feature will help you generate in-depth, actionable reports. The criteria of these reports depends on the information you enter in them.
Computerized Invoicing
Busy Software assists you with invoice generation and assists you with getting cutting-edge reports about client installments. Internet invoicing will assist you with smoothing out activities and improve business measures.
Easy Inventory Tracking
Busy programming will help you track item stock and get cutting-edge subtleties on the stock sum close by. You can also use the software if run out of stock.
Organized Processes
Manual solicitations can without much of a stretch be lost, and it is not difficult to lose them. Then again, Busy assists you with putting away all the information and data safely in a solitary area.
Scalable Solutions
It offers functionalities like modern customization and attractive information bases. Regardless of whether you are a startup or anticipating growing your business, you can put your confidence in the product.
Benefits of Busy Software
Centralization
Customizable Invoice and reports,Customer relationship management, payroll,inventory operations are such centralize key business processes that have to be managed properly. Their busy accounting software helps you centralize key business processes and tasks, swiftly and easily.
Easy Tax Compliance
Busy software is the simplest way to pay and manage all your GST returns and filling. Also it helps focus on the different options that will ease users with other tax compliances.
Quick Support Management
Busy learning curves are simple and easy to understand, and a beginner can learn to use it unlike software units in a week. Even, it has any problems or issues, it offers sensitive online help and support management.
Frequently Asked Questions (FAQs)
Read some major frequently asked questions by Busy users:
What is Busy Software?
BUSY is a business accounting software used by Micro, Small and Medium businesses worldwide.BUSY Accounting Software with Inventory, Billing, VAT, Excise, Service Tax & TDS.
What is the use of busy software?
BUSY helps small business manage not just their accounts but also their business processes and operational controls. FMCG, Retail, Manufacturing, Trading, Distribution, and Service. It is an integrated business accounting software for Micro, Small and Medium businesses.
Is Busy or Tally Better?
Busy Provides a many features and many reports like Import vouchers and masters From Ms EXcel, Multicurrency, Automatic Backup Facility,Data Freezing, profitability Reports,Sale Purchage analysis,Interest Calculate after Reconciliation , It is much better than tally with both option Uncleared, Cleared & All Entries
How to draft a new financial year?
Go to Administration => Change Financial Year => New Year from XX-XX-XXXX
How to create a different company for the new financial year along with all masters & balances?
Create new financial year first
Close the company and Go to the backup option
Take the backup of current year only
Then, Go to "Restore" option
Define the path where backup files has been stored and restore the data
Select "no" option when asking to overwrite the company.
How can I transfer my profit to a Capital account?
Pass the following Journal entries:
Profit & loss account Dr. (Predefined master)
To Partner/ Proprietor Account (under group Capital account)
To Partner 2 (If any) (under group Capital account)
After transferring the profit, "Profit & Loss adjusted" is showing on the asset side of my Balance Sheet. How to balance both sides?
When we transfer the profit into the capital account, "Profit & Loss adjusted" starts showing on the asset side of the Balance Sheet. By default, BUSY always shows the profit & Loss Account in the Balance Sheet. When we pass the transfer voucher, it mismatches the balance of Asset & Liability. To match the Balance of Both sides, "Profit & Loss Adjusted" starts showing on the other side of the Balance Sheet. It is just to tally the assets & liabilities of the balance sheet & will not show in printing.
My closing balances are not properly carried over to the new financial year. How to rectify it?
Go to Previous year Run
Rewrite Books
Switch to the new financial year and again carry over the balances.
What are the steps to define the value of my stock manually?
Go to Display > Balance Sheet and click on it.
Disable the option "Update Balance Sheet Stock" and generate the report.
Find the stock account in current assets and press enter on it.
Give the value of stock as per your valuation and save it.