Busy Enterprise Edition Price & Features
Busy enterprise edition is a captivate and full-fledge enterprise accounting level software. It includes busy basic and standard edition offers along with Head Office Branch Office Data Synchronisation, Voucher /Master Approval Et Rejection and more. It is especially designed to cater the business accounting software solutions. It is best suitable for small businesses as well as fortunate companies. With its friendly and powerful dashboard stakeholder can easily analyze, report, and facilitate decisions in time.
Have a Query? Ask Us
+91-7217799535 or +91-9013049756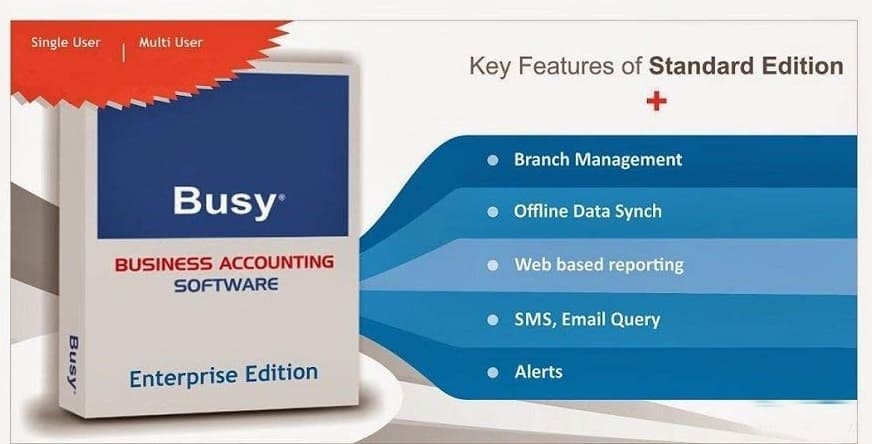 Busy software Enterprise Edition Features:
Read the complete busy software enterprise edition features below:
Multi-Company / Multi-Financial Year
Pre-defined Masters for Instant Start
Multiple Voucher Series for each Voucher Type
User-definable Optional Fields in Masters / Vouchers
Voucher entry while viewing reports & vice-versa
Voucher Cancellation
Search / Sort / Filter / Group all Screen Reports
Reports Export (Plain File / HTML / PDF / MS-Excel)
Printing in Draft Mode (DOS-Like)
Drill Down from All Reports to Voucher Level
Print Preview
Graphs & Charts
User-Definable Shortcuts / Favourites Menu
Party Dashboard at the time of Voucher Feeding
Images / Notes in Account / Item Masters
Option to Change Labels & Captions in Data Entry Forms
User-definable Columns in Reports
Custom Validations in Masters / Vouchers
All Books of Accounts
Balance Sheet with various Schedules
Outstanding Reports - Bill-by-bill basis
Daily / Monthly Summaries of Accounts / Groups
Printing of Bank Deposit Slip
Configurable Payment Reminder Letters
Depreciation Chart (As per Co. Act / IT Act)
Ageing Analysis on FIFO Basis
Interest Calculation with Automatic Posting in Accounts
Bank Reconciliation
Columnar Accounts Registers (Configurable)
Handling of Post-dated Cheques (PDC)
Configurable Balance Sheet & Profit / Loss A/c
Multi-Currency Accounting
Cost Centres
Broker-wise Reporting
Royalty Calculation
Sub-Ledgers
VAT Invoicing (Tax / Retail)
Multiple Taxes in Single Invoice
Tax Inclusive / MRP Billing
Fully User-Configurable Invoicing
Mfg / Trading Excise Invoicing
POS Data Entry Screen for Fast Billing
All books of Inventory
Stock Ledger
Stock Valuation on Multiple Methods
Multiple Material Centres
Daily / Monthly Summaries of Items / Item Groups
Item Critical Levels (Reorder / Minimum / Maximum)
Stock Ageing on FIFO Basis
Sales / Purchase Return in Sales / Purchase Vouchers
Provision for FREE QTY in Inventory Vouchers
Primary, Alternate and Packaging Unit for each Item
Batch-wise Inventory with Mfg. / Expiry Date
Item Serial Number-wise Tracking
Parameterized Stock Maintenance (Size, Colour etc.)
Multiple Price-Lists for Items
Party-wise Price Structure for Items / Item Groups
Item-Qty-wise Price / Discount Slabs
Date-wise Item Pricing
BOM / Production Planning
Production / Unassemble
Accounting in Pure Inventory Vouchers
Job work Management with Auto Posting in Accounts
Cash Flow / Funds Flow
Ratio Analysis
Masters / Vouchers Statistics
Sales / Purchase Analysis
Profitability Reports (on various parameters)
Budgets / Targets / Credit Limits
Multi-Company Results
Production Variance Report
Enterprise Document Printing
User-configurable Invoice / Documents / Letters
User-configurable Accounting Vouchers
ST Forms Reminder Letters (Configurable)
Sale-in-Transit Register
VAT Returns (State-specific)
VAT e-Returns (State-specific)
VAT Registers (State-specific)
Columnar VAT Registers (Configurable)
VAT / GST Summary
Party-wise VAT / CST / GST Summary
Item-wise VAT / CST / GST Summary
ST Forms Receivable / Issuable
GST Reports & Returns
User-definable Warning Alarms
Data Freezing (Full / Selective)
Fully User-definable Access Rights
Restrict back-dated entries (Full / Partial)
Voucher Audit
Option to bind Data / User with Selective Computers
Data Checklist
Triggers & Alerts
Voucher / Master Approval with Provision for Rejection
User Activity Log
Master Series Group (User-wise)
Pop-up Calculator
Year-wise Data Back-up and Restore
Price-List Printing
Label Printing (Accounts / Items)
Merging of Account / Item Masters
Voucher Replication / Duplication
Powerful Query System to Search Data on Different Criterion
Search Party from Name / Mobile / Email
Block / Deactivate Accounts / Items
Import Masters from MS-Excel / Text File
Import Vouchers from MS-Excel
Data Export / Import (XML)
Direct Email / SMS to parties
SQL Query Executor
Notes / Task Manager
Automatic Data Backup (Client-Server editions only)
Message Center
Web Based Reporting Through Your PC / Mobile / Tablet
Account / Item Balances on your Mobile Through SMS
Ledger / Pending Bills / Daily Sales Through Email
Customers Can View their Ledger / Pending Bills on their Own
Configurable Salary Components (Earnings & Deductions)
Employee-wise Salary Structure (Configurable)
Daily / Monthly Salary Calculation
PF / ESI Registers and Returns
Loan / Advance Management
Automatic Posting in Accounts
Sales / Purchase Quotations
Sales / Purchase Order
Sales / Purchase Challan
Purchase Indent Management
Service Tax
TDS/ TCS
Mobile App
Digital Signature
MFG/ Trading Excise
Customer Management
Busy Enterprise Edition Price
Busy software enterprise edition price are affordable and worth the investment. Busy enterprise multi user prices let you help you in an absolute manner to trump accounting management.
Download Busy Software Trial
You have opted to download our Busy Enterprise Edition Free Trial. Before going ahead, you are required to fill-in the following details:
Buy Busy Enterprise Edition: You have opted to buy Busy Enterprise Edition at a disclosed price. Before going ahead, you are required to fill-in the following details:
Account Management Software for Small Business
Busy enterprise edition is all about account management software for small businesses. Currently it is the best accounting and billing software for small business. It supports typically all-major accounting solutions be it gst accounting and billing software, accounting and inventory software, etc.
Moreover, it is liked by 30000+ clients and rated as the best GST & Billing software for small business. Our busy enterprise software edition can assist you with robotizing steps of the bookkeeping cycle, permitting you to invest energy on the main thing, such as developing your business.
Buy Busy Enterprise Edition Online :
!!Good news!! You may buy our busy Enterprise edition online - to do so, just click on the 'Buy Now' button and the requested software will be delivered shortly.